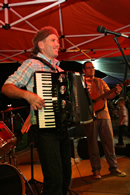 We've been running dances since 1990!
Beefa's Bush Band has been entertaining crowds around South East Queensland since 1990! (Not 1890, although that would be pretty cool…)
Playing a fun mix of traditional bush dances, popular Australian rock anthems and familiar 'bushed up' chart toppers, it is hard to know who has a better time – the crowd or the band
Depending on what you're after, we've got just the right mix of tunes and dances.
If you're having a party or a fund raiser – a corporate day or a fete – Beefa's Bush Band will help make it a time to remember!
Our frontman Chris calls the dances and is great with beginners and practiced dancers alike.