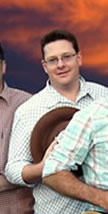 Give Troy a call on:
Mobile : 0419 796 269
Ph : (07)3882 4012
E-mail : troy@beefasbushband.com
Troy is Beefa's Bush Band's trusty manager and Bass player.
Troy's more than happy for you to contact him with any questions or queries about the band. He'll also discuss the cost and terms of engaging the band. Be sure to book the band well in advance as the many repeat bookings mean our diaries fill quickly. This also gives you ample time to best organise your event to ensure success. Although Beefa's mainly work within the greater Brisbane region, we don't mind traveling a bit either. Extra travel will be costed accordingly.